NEW!!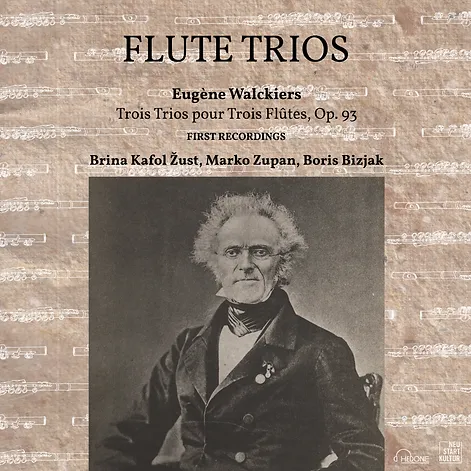 .
FIRST RECORDING
Eugene Walckiers: Trois Trios pour Trois Flutes, Op. 93 
.
TRACKS:
.
Trio No. 1 in E flat major, Op. 93
I. Moderato 
II. Allegretto poco ritenuto       
III. Adagio  
IV. Allegro 
.
Trio No. 2 in A major, Op. 93
I. Allegro 
II. Andante con moto    
III. Allegro poco vivace
IV.  Allegro vivace
​.
Trio No. 3 in C major, Op. 93
I. Andante – Allegretto  
III. Allegro poco vivace 
IV.  Allegro – Moderato – Allegro – Moderato – Allegro poco animato 
.
Brina Kafol Žust, Marko Zupan, Boris Bizjak (flutes) 
.
Available at:
https://www.hedonerecords.co.uk/walckiersflutetrios
.
.
.
.
.
.
.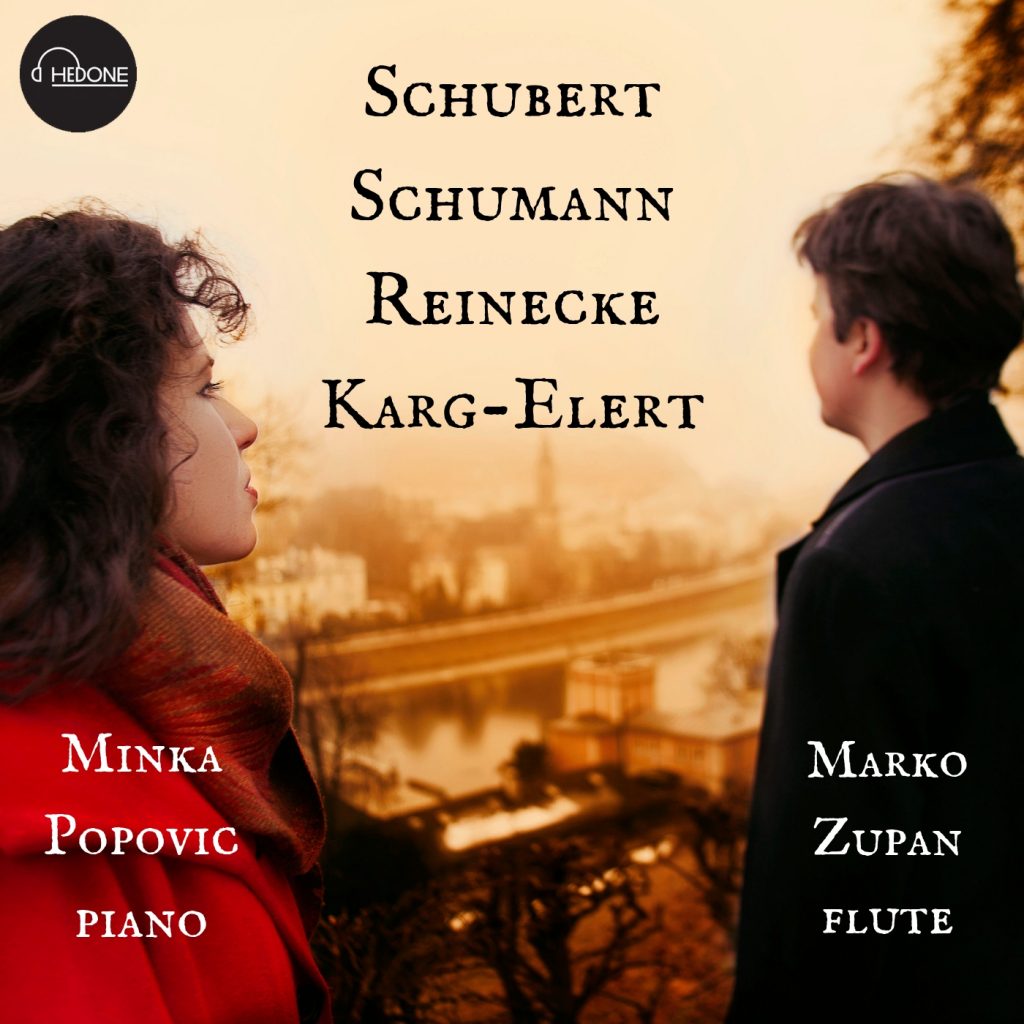 .
Schubert, Schumann, Reinecke and Karg-Elert – although each composer colours from a distinct palette, this synthesis of their works for flute and piano provides a rich embodiment of the German romantic esprit of "Sehnsucht".
Tracks:
Franz Schubert (1797-1828):
[1] Variations for Flute and piano D 802 – op. post. 160 on "Trockne Blumen" from "Die schöne Müllerin"
.
Clara Schumann (1819-1896): 3 Romances, Op.22
[2] Andante molto
[3] Allegretto – mit zartem Vortrage
[4] Leidenschaftlich schnell
.
Carl Reinecke (1824-1910): Undine Sonata for Flute and Piano, Op.167
[5] Allegro
[6] Intermezzo – Allegretto vivace
[7] Andante tranquilo
[8] Finale – Allegro molto agitato ed appasionato, quasi Presto
.
Sigfried Karg-Elert (1877-1933): Sonata in B major op.121 for Flute and Piano
[9] Idyllisch, nicht schleppend (Allegro amabile) – Äußerst langsam (Adagissimo) – Sehr geschwind und leichthin
.
Available at:
https://store.cdbaby.com/cd/markozupan
.
.
.
.
.
.
.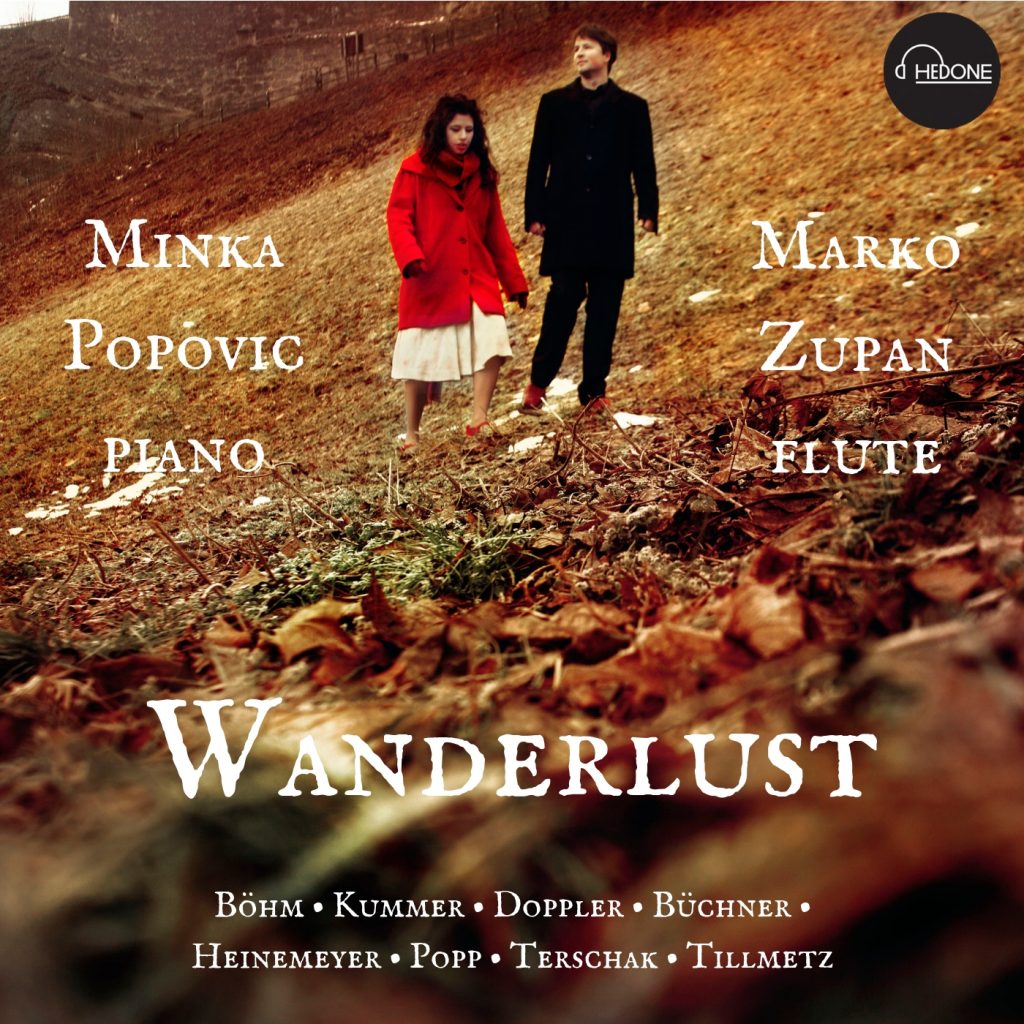 .
"Wanderlust" album – an exotic musical journey through the German Romantic Virtuoso Flute Repertoire – as a homage to all the colleagues who tried to make their art and their living with it.
.
Tracks:
[1] Rudolf Tillmetz (1847-1915): Es will Abend werden, Op. 41
[2] Kaspar Kummer (1795-1870): Le Carnaval de Venise, Op.157
[3] Albert Franz Doppler (1821-1883): Airs Valaques, Op.10
[4] Ferdinand Büchner (1823-1906): Espagnole, Op.62
[5] Ernst Wilhelm Heinemeyer (1827-1869): Souvenir de la Russie, Op.3
[6] Wilhelm Popp (1828-1903): La reine des Alpes, Op.250, nr.3
[7] Wilhelm Popp (1828-1903): Serbisches Märchen, Op.469, nr.4
[8] Adolf Terschak (1832-1901): "Columbus" Rapsodie Americaine, Op.132
[9] Rudolf Tillmetz (1847-1915): Ungarische Phantasie, Op.25
[10] Theobald Böhm (1794-1881): Gute Nacht (from Schubert's Winterreise)
.
Available at:
https://store.cdbaby.com/cd/markozupan2
.
.
.
.
.
.
.
Previous releases: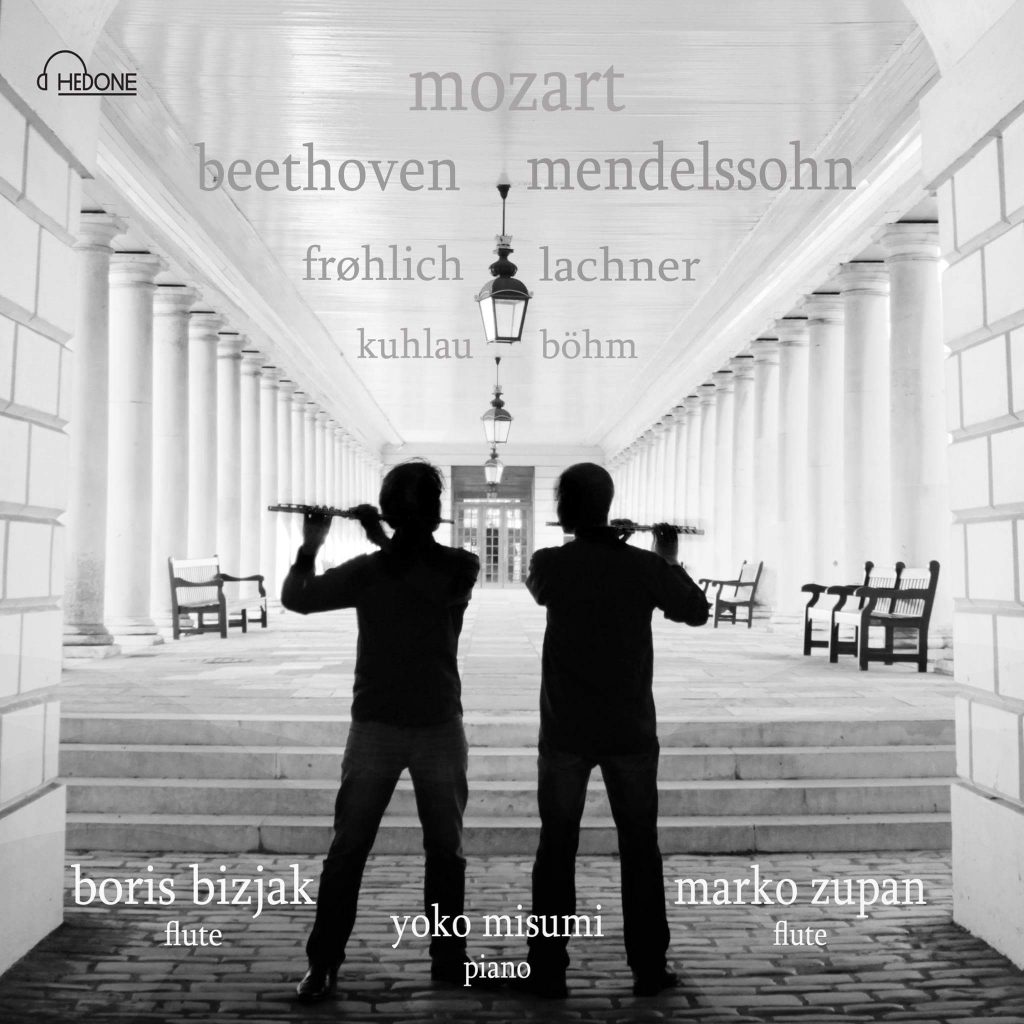 .
Music for two flutes and piano by Mozart, Beethoven, Frohlich, Kuhlau, Mendelssohn, Lachner, Böhm
Marko Zupan, Boris Bizjak / flutes
Yoko Misumi/ piano
.
This recording takes us on a musical journey from the Clearness of Classicism to the "Sehnsucht" of Romanticism. Geographically it follows an almost vertical line from Salzburg (detour Vienna) to Denmark, and finally back to Munich to the inventor of the modern flute.
.
W.A. Mozart: Sonata in D major, K. 448/375a
L. van Beethoven: Duo for two flutes in g major, WoO 26
F. Kuhlau: Trio for piano and two flutes, Op. 119
J. Frohlich: Flute duet in c minor
T. Böhm: Trois duos de Mendelssohn et Lachner
.
Available at:
https://store.cdbaby.com/cd/borisbizjak2
.
.
.
.
.
.
.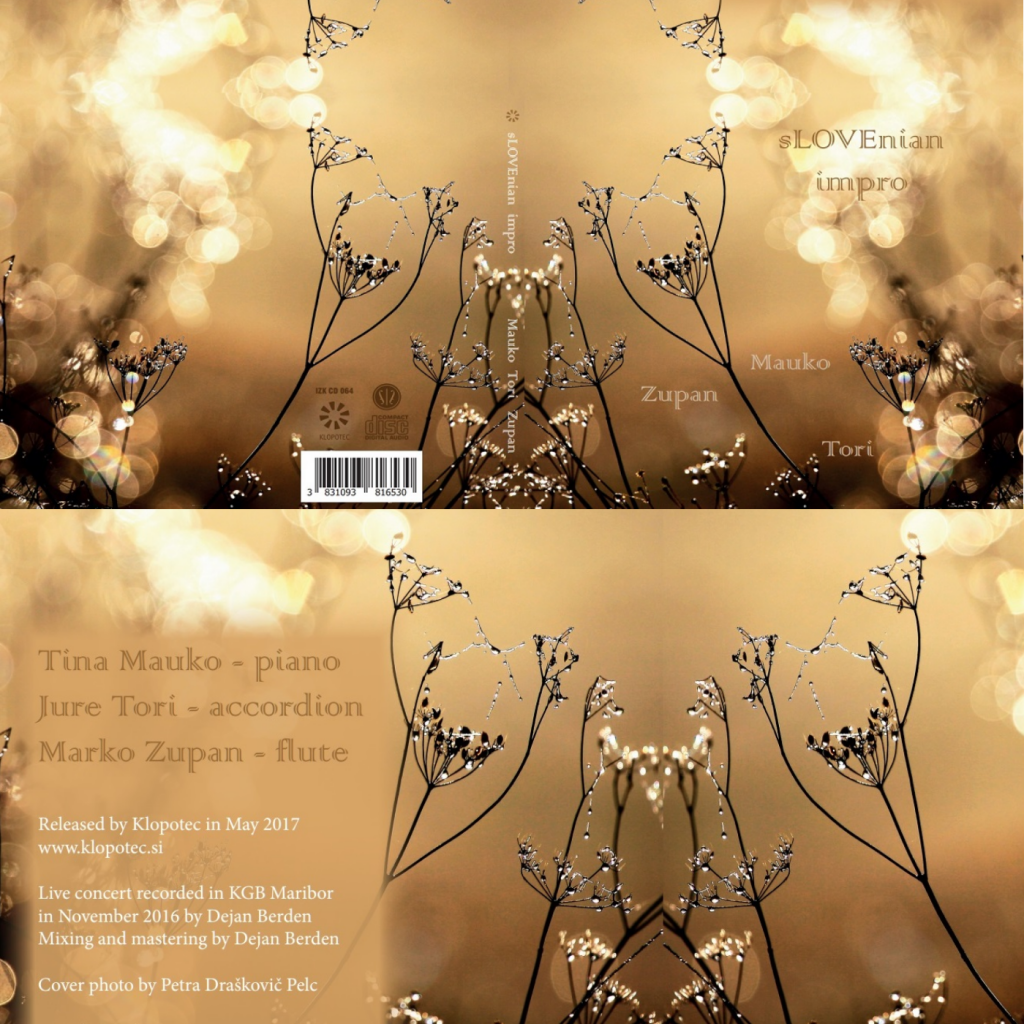 .
The group are made up of renowned Slovenian musicians, inspired to create a unique free improvisation, where classical music meets minimalism, blues, various ethnic styles and the bittersweet sounds of Zagorje… The compositions come to life spontaneously on the concert stage – a process of creating and recreating. Each concert captures the moment shared by the performers and the audience – a truly unique concert experience.
.
Tina Mauko – piano
Jure Tori – accordion
Marko Zupan – flute
.
sLOVEnian impro, the groups debut CD, was recorded live in concert at the KGB club (Maribor, Slovenia) and was released in January 2017.
.
Review : Nina Novak-Sigic(SLO)
.
Available at:
http://www.klopotec.si/klopotecglasba/cd_slovenian-impro/
.
.
.
.
.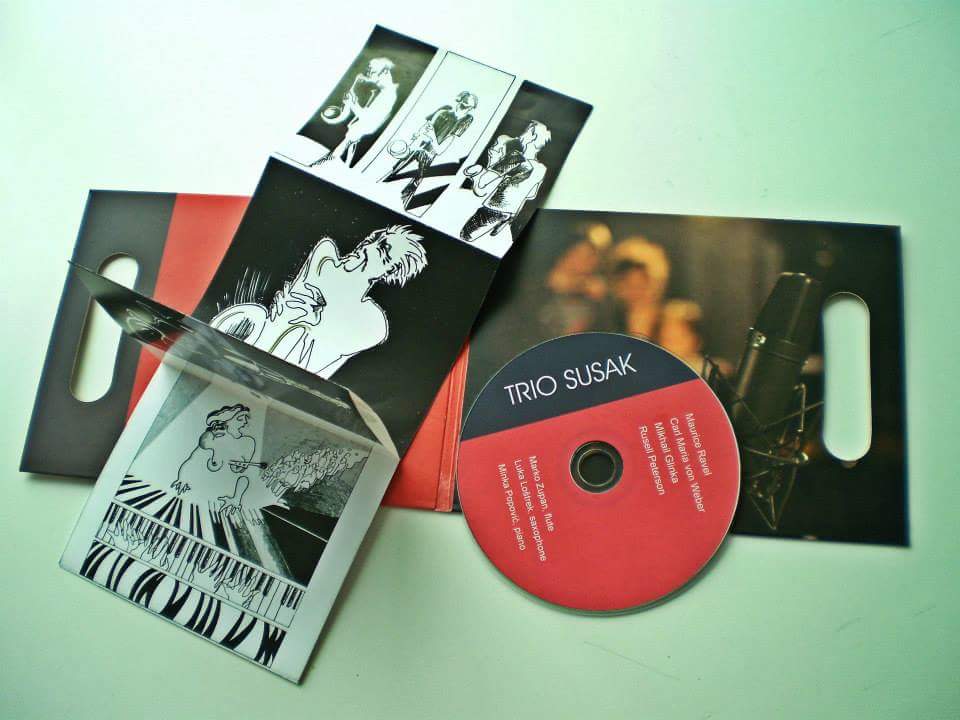 .
Music by Ravel, Weber, Glinka and Peterson.
Marko Zupan, flute
Luka Loštrek, saxophone
Minka Popović, piano
.
Trio Susak began their musical journey in 2009 on a small island in the middle of the Adriatic sea. Since then they have performed throughout Europe, gaining in 2011 a Special prize at the International Music Competition in Braunschweig, Germany. Through friendship their music attains emotional strings while their individual approach remains a fundamental element in their development as a music group.
.
Maurice Ravel: Sonatine en Trio
Carl Maria von Weber: Trio in G Minor, Op.63
Mikhail Glinka: Trio Pathetique in D Minor
Rusell Peterson: Trio for Flute, Saxophone and Piano